Nanobebe Breastmilk Storage Bags & Organizer Review
Let's make pumping simpler
I love that these breastmilk storage bags are actually quite thick, not only do they feel like they won't rip or tear, but they also stand well on their own which prevented several accidents. I don't know about you, but spilling the liquid gold is pretty heartbreaking, especially if you're like me and you don't produce a ton of milk. Every drop counts regardless of who you are, and how much you pump, so I think it's important to take note of how these bags handle "real life."
I also appreciated the opening size, it wasn't too big and the zipper is very strong as well. It's thick too, so you know when it is either open or shut and if there are any gaps. I've noticed with some of the other bags, the opening is too large and sometimes the milk just goes all over the place.
These bags help to lay the milk flat within the organizer, I've always stored my milk flat because I felt like it just saved more space that way, but on the box, it even says that because the milk is stored flat, it thaws 2 times faster. I would definitely recommend using other Nanobebe products such as the starter kit because it comes with the bottles and the warming bowl, this collection was meant to preserve nutrients in the breast milk that otherwise would have been lost by other methods of heating.
Here is what the bags look like, as you can see, these bags are shaped differently than some of the others but they still hold 5 oz of milk. On the bags, there are labels for the name, volume, date and time, for easy labeling. When pouring the milk from the bag into the bottle you just gently squeeze the opening to form a circle and the milk will flow right in! The bags were designed to be flat so that the milk can become cold faster but also, warm faster as well.
The organizer fits the breastmilk storage bags perfectly, it was designed to be sure that you are using the milk in the order that it was pumped. So when you go to get a new bag of milk, you'll simply pull from the bottom to use the milk that was pumped out first, this eliminates confusion and helps to make sure that all of the milk is used within the right time period before it spoils.
Overall, I really like these bags and recommend them to moms who are pumping for their little ones. I feel much more organized using this product which helps to streamline our feeding process. One of the things I enjoy most about this product is that it works perfectly with the starter set. I know I said in my YouTube video that the company doesn't have spectra adapters, but I was wrong about this, they do in fact have Spectra Baby pump adapters so that you can pump straight into the Nanobebe bottles!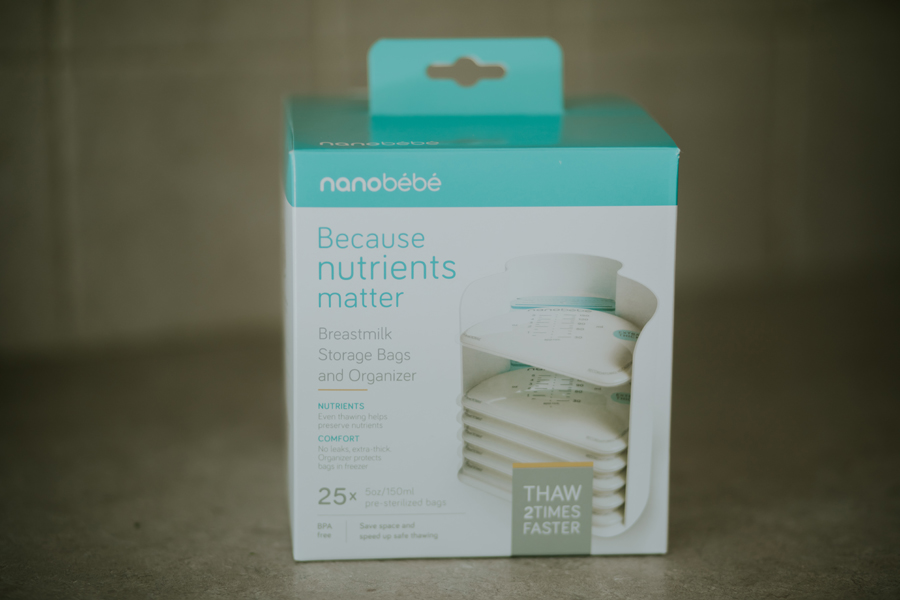 Check out the video review of the Nanobebe Starter Set!
Stay up to date on giveaways! I would love to share more of my adventures in motherhood with you, if you have a moment – please consider leaving your email address or follow me on any of the social media networks shown here. I sometimes offer giveaways and, my husband and I have very big plans for the future and I'd love for you to come along with us!
Blogger, Photographer, Mom of 7
It has been my pleasure sharing this story with you. My life has become a bit more complicated as our family has grown, when I got married, our photographer lost all of our wedding photos – when we had them re-done, the photographer had the wrong settings in-camera and then I was diagnosed with Graves' disease and became pregnant with our fifth baby on an IUD (he was meant for me and I wouldn't have changed the situation for the world, it has taught me so much!) Less than a year later, we were blessed with a pair of identical twin boys. Despite the craziness, I have made it my mission to treat my thyroid condition naturally by way of managing stress, gut health and living my best life. I still find time to research products that actually work and to answer questions about the situations that I've gone through. In addition to being a Mom, I'm a photographer and a thyroid disease warrior.
Oxo is a company that has made my life as a Mom easier by making kitchen gadgets and tools that are budget friendly and reliable. I previously talked about their baking mat & sheet pan set (to help make clean up super easy!) That duo are two of my favorites. So I...
This is a comprehensive tutorial on photo editing, starting with the basics of taking photos and what apps to use with your mobile device.
Recently our twins turned one and I knew I had to take a few photos to commemorate this very precious time in our lives. Making it through the first year with any baby is so important but with twins it was monumental for me, because during this year we have gone...