#sustainchildhood
Lessons from a professional photographer to help you document the everyday.
"I have trouble figuring out the settings when it comes to indoor vs outdoor pictures."
Photography is a neat experience and for the most part, you will learn something new every time you pick up your camera. Most of the time, people associate photography with outdoor pictures but most recently, the lifestyle images are what people are after. These types of images usually take place indoors and commemorate childhood, pregnancy and family time. The first thing to know is that there is a dramatic difference between outdoor photography and indoor photography. You may think a room indoor might have the same lighting as an outdoor location however when you turn on the camera and look at your screen, it's pretty dark.
"My indoor photos come out dark, what am I doing wrong?"
Taking indoor pictures doesn't have a whole lot to do with the camera or the equipment. It begins before you even set out to take pictures. The lighting in your home or the location of choice is the biggest thing. If you'd like to make things easier, the type of lens that you use can change how the camera perceives the atmosphere around you. For indoor portraits or lifestyle images a 50mm 1.8 (also known as a nifty fifty to some) is a good choice. Here are some highlights of that lens;
It is the go-to lens for many photographers
Great in low-light conditions
Retails for around $100 (be sure to price match or use a coupon code!)
Tiny and easy to pack with you
Allows growth – there is a 1.4 and a 1.2 version of this lens
Before you pick up your camera – Be sure to open all of the blinds and drapes. Even if you have the horizontal blinds or plantation shutters, you'll want to open them all the way up so that you get every drop of lighting needed. If I'm shooting in the living room or dining room, I always make sure to also open the front and back doors. You will also want to remove clutter from the room to create the best looking image that is visually appealing to you, your family and viewers of the image. If you can help it, try and take photos in a room that has white or beige walls. Light colored walls will help the light to bounce around. Walls that are brightly colored may cast colors onto the skin of your subject making the editing part harder.
ISO: Here is where you want to pay attention the most. When it comes to the ISO on your camera, you will want to be sure that you don't go too high. For example, my camera lets me go all the way to 10,000 but in the settings, I set mine to a max of 1600 and if the image isn't bright enough on screen, I change other settings (such as the shutter speed.) If your ISO is too high, you may end up with photos that are grainy. Right now, a cool film grain over the images is an editing style that is sought after for some but clear raw files is definitely the way to go if you can help. Most of the time, a little bit of grain won't make a difference when it comes to print anyway so keep that in mind.
Shutter Speed – In the last post we talked about this a little bit, in short this is how fast your camera stops the movement in a photo and turns it into a still frame. I don't like to go below 200 when it comes to pictures of children. However, this is unavoidable in situations that take place indoors when there is not enough light.
Flash – Sometimes I use an off-camera flash, these are relatively cheap to buy (mine was $40 on Amazon, it's an off-brand and does the job!) I like to point my flash at the ceiling so that the lighting from that bounces around and creates a little bit of a punch to the picture. This also brightens things up just enough if used on a low setting.
Pro Tip: If you can help it, shooting with settings that show a bit dark is always better than shooting with settings that are too bright. In editing, you can always lighten an image but you can't always revive the lost highlights that are blown out due to settings that are overexposed.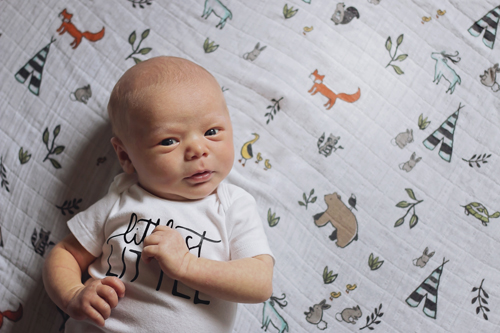 I situated Benton so that the lighting was shining down
and coming from the top of his head.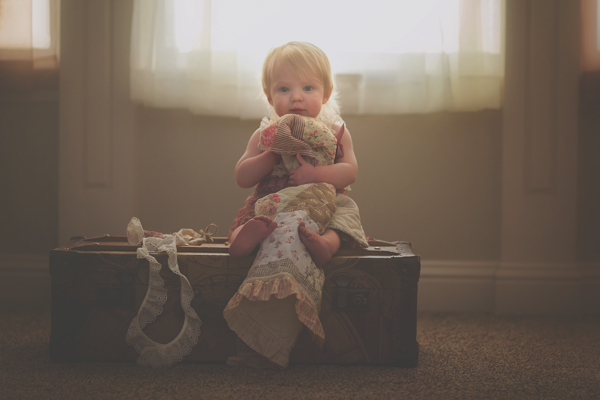 Here is where I broke the rules, notice how the drapes are closed?
This creates a soft look for images but only if your drapes are a 
light color. The sheer material acts as a natural light diffuser.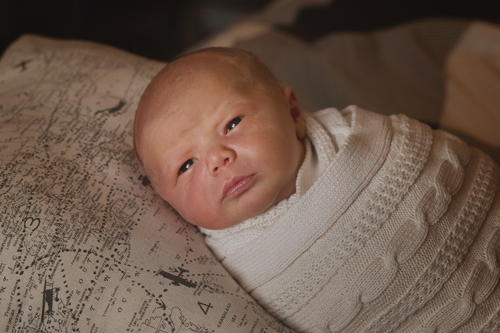 This is an image of the light directed straight toward baby's face.
I feel that this image lacks dimension and appears flat so if I can,
I try to avoid blunt light like this.
Hi! Thank you for reading my blog posts, I'm a mother to five and professional photographer to hundreds. My days as a photographer began in Southern California where my friends and I had walls full of photos printed from our adventures. I currently shoot with a Canon 70D *gasps* a crop sensor?! Yes. A crop sensor, because it's not the equipment that makes a good photographer. It's creativity and challenges that do. I strive to document life as it is, to #sustainchildhood is my ultimate goal for you and for me. If you've found my article interesting or helpful, please consider sharing this page and using the hashtag #sustainchildhood so that I can see your work!
[alpine-phototile-for-instagram id=792 user="theblackandwhiteblogco" src="user_recent" imgl="instagram" style="wall" row="5" size="Th" num="15" highlight="1" align="center" max="100"]