Dock A Tot
Sponsored By: Dock A Tot
The Dock A Tot Deluxe+ is one of my absolute favorite products. I tell all of my friends about it because it's something that has helped me to have more happy days in the newborn stage, due to better sleep. I was introduced to this co-sleeper with my son Benton, and I told myself if I had more children, I'd definitely use it again. Here we are, this time with TWINS!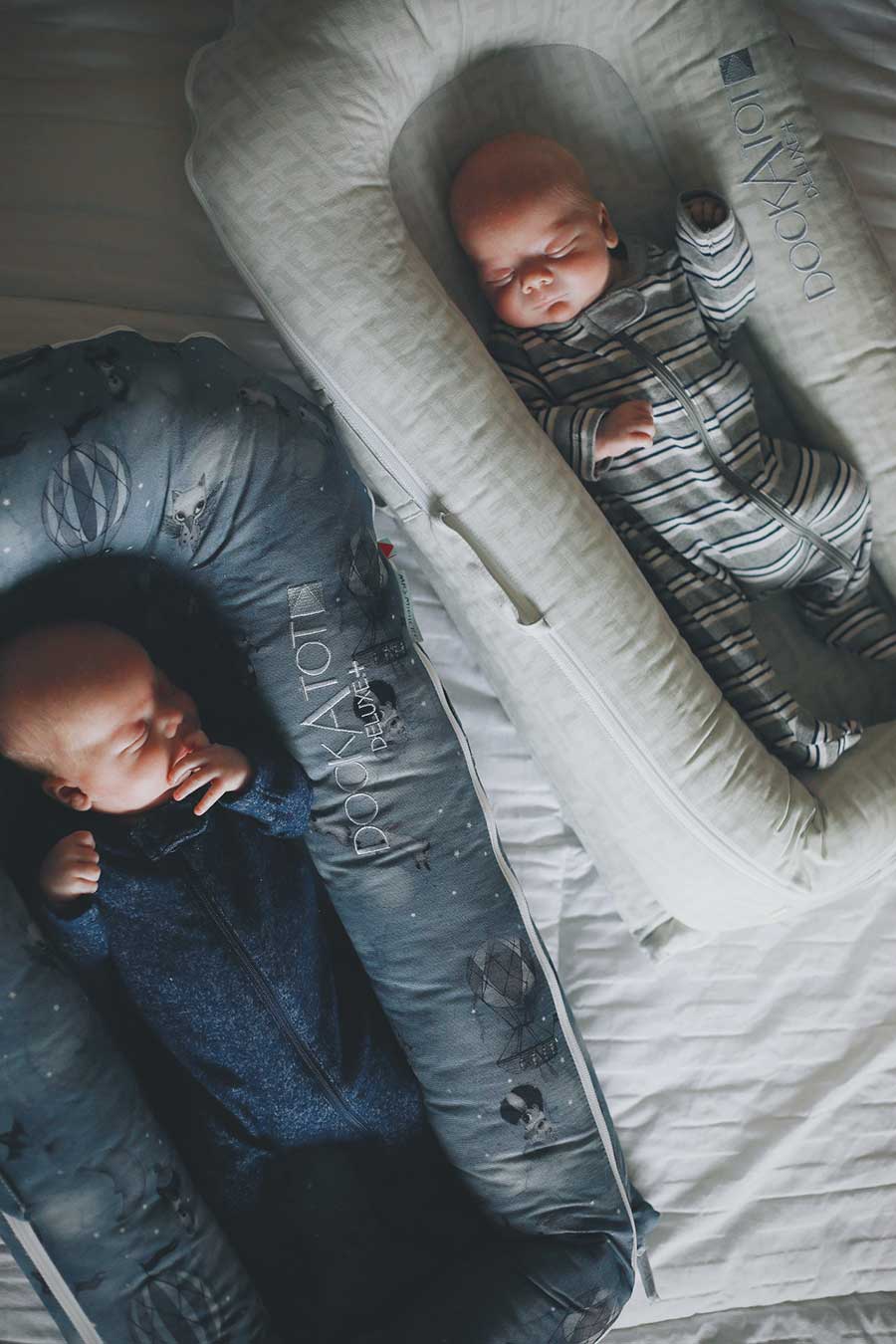 Don't let it's good looks fool you, this is something that babies actually like to sleep in. The Dock A Tot is wonderful for co-sleeping & allows for a parent's peace of mind. It also works as a great naptime sleeper for babies during the day too! This oval-shaped pod gives back the womb-like environment until babies are around 8 months of age, or have otherwise grown out of their Dock (there is a larger size that is available as well, this is for babies up to 36 months of age.) There are many great reasons to incorporate a Dock A Tot into your baby's primary sleeping arrangement; First, it keeps babies safe in a regular sized bed, you don't have to worry about babies rolling off of the bed or bumping the headboard. Dock A Tot is also Oeko-tex certified & passes the standards for healthy textiles, this means it is free of harmful substances. It's also non-heat harboring so baby can stay at an appropriate temperature while sleeping without perspiration which would then drop their temperature.
I use my docks in various situations but for night time sleeping, I like to place the docks at the top of the mattress near our headboard. This is so that I can still use my blankets without worry that they'll go over the docks. There aren't many soft co-sleeping products out there but this one qualifies because the material is completely breathable. I remember what sold me on this product initially was a video of a mother diving into the Dock A Tot, face first and talking into it to show how breathable the material is.
Most of you know that our twins spent 38 days in the NICU because they unexpectedly arrived early. One of the things I noticed while there was early on, the nurses would make these u-shaped blanket rolls for the babies, they said they did this because it created barriers, like what babies are used to in the womb. Babies love to kick on the inside of the belly as well as the outside, but when there isn't a barrier, it isn't as satisfying for them. When looking at the nurse-created barriers, I realized.. they looked exactly like the Docks that we had at home! Of course, rolling blankets up around babies is totally unsafe in a home environment, but in the NICU it was okay because they were watched constantly and on monitors. At home, the safe alternative would be the Dock A Tot which is why I think this co-sleeper is great for preemies as well as full-term babies.
Since the moment our boys were born, I was thinking about the moment we would introduce them to their siblings. I never put much thought into how we would actually pull this off in a safe way. When I got home, I saw our Dock A Tots hanging and I just knew that they would create a safe place for the little ones to come and meet these fragile little babies. Here is how I used them in this scenario;
I love the way the Dock A Tots look. I think the covers are just beautiful! To save space, I decided to hang our docks on the wall in our master bedroom. I simply put a screw in the wall and covered it with burlap to make sure the top handle of the cover remained in great shape!
This is also an easy way to access your Dock when the baby is ready for a nap. I love how easy they stay on the wall and the fact that they look great is a major plus. When choosing the Docks for our twins, I made sure they coincided with one another and also, the decor of our home ~ because.. pictures!
Additional Benefits of Using a Dock A Tot
Me Time
Me Time: Aside from being able to share a bed with my little ones, I can also use the Dock A Tot on the floor. This has come in handy in many situations. I love to take baths and I have to be strategic about when I can actually relax – always during their sleeping time. I like to place the Docks right on the floor next to the tub so that I can have them close, in a safe space while I relax.
Travel
I love that they are travel friendly. When you think about staying in a hotel with a newborn or small baby, there is nowhere for them to sleep unless the hotel offers cribs. Sometimes these cribs come with a price and ultimately that price could be an illness because sometimes the cribs aren't sanitized properly after use.
Visually Appealing
Most baby items are created with "baby" patterns or colors. I love that the Dock A Tot has changeable covers which are all designed to fit the decor of most homes, no matter what it is. I also love how they appear in photos, there are no crib bars or mobiles getting in the way, so we get the perfect photo – every time.
Machine Washable
Unlike other baby products, this one can be thrown into the washer, all of it. Of course, you'll disassemble and wash what you need to. It's best to use the cold cycle when washing your Dock.
Pick One Up For Yourself!